---
Reviews
---
February 2015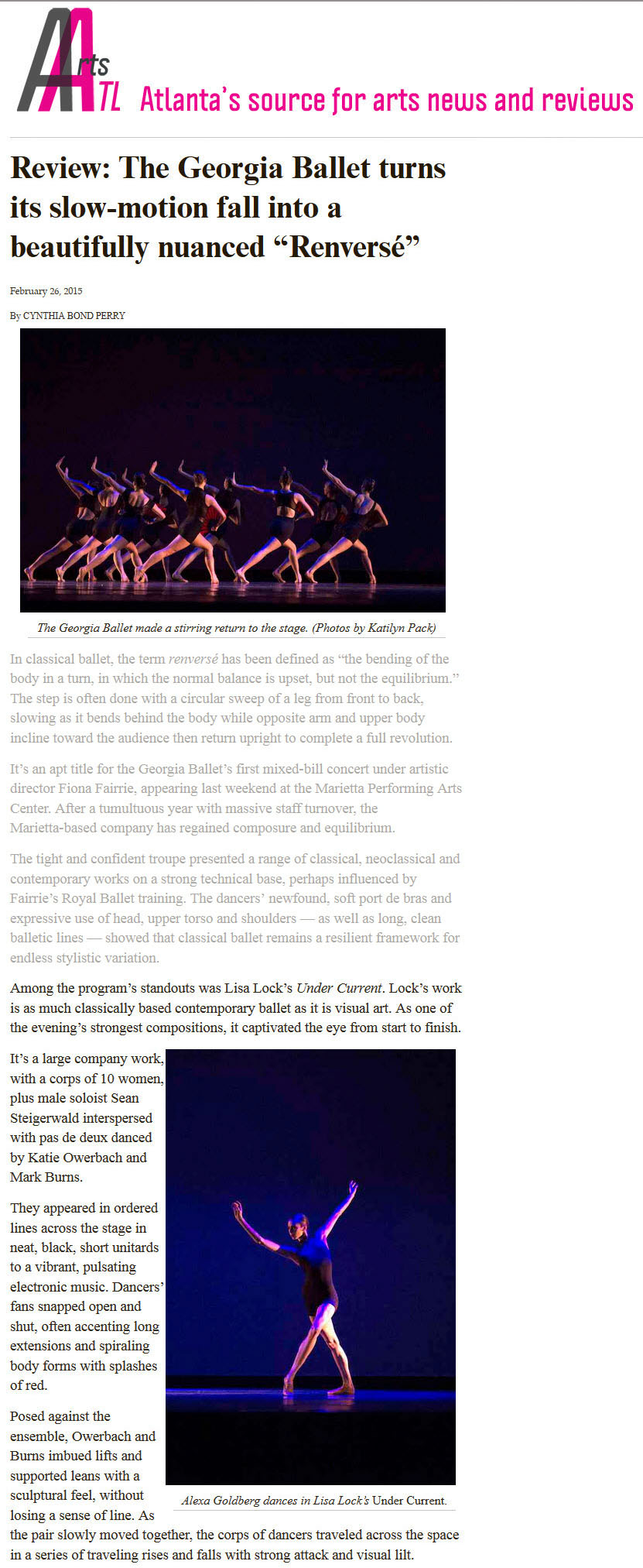 ---
January 2014

---
February 2011
Tremaine Dance Convention and Competition
Cleveland, Ohio
Lisa! Absolutely loved The Ballet Class number! Terrific choreography. Great use of props ------the number built beautifully. Most enjoyable and unique! Congratulations!
Joe Tremaine
---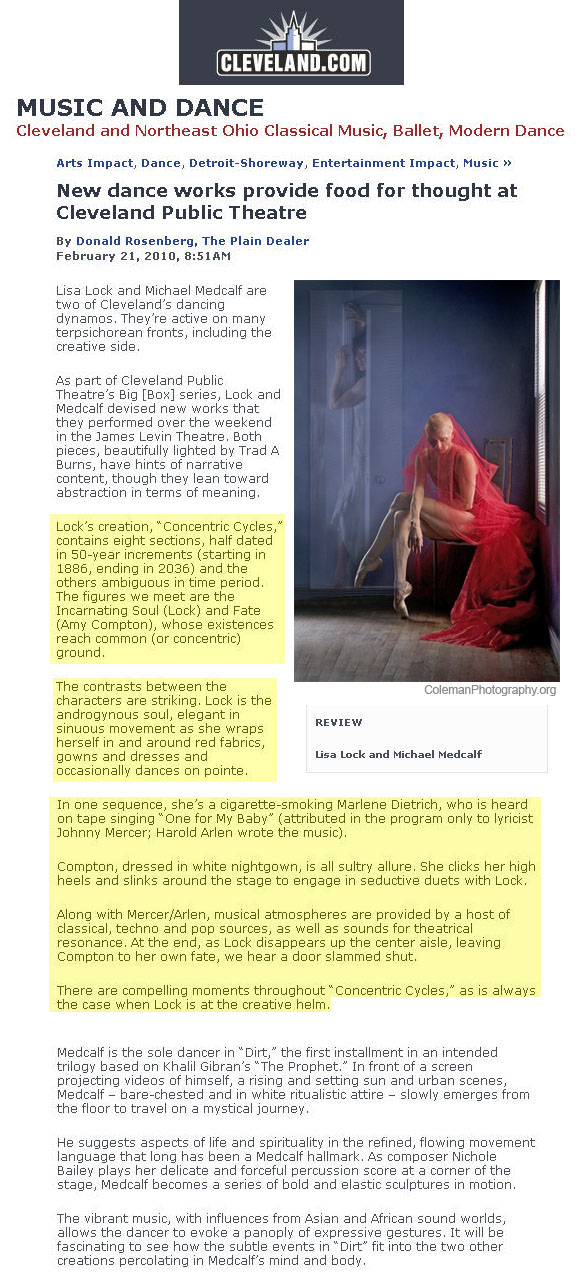 ---
Beck Center's "Fiddler" keeps the tradition fresh


By Donald Rosenberg, The Plain Dealer


September 21, 2009, 3:07PM

By some curious alignment of Broadway stars, the theater gods have called for fiddlers three to visit Northeast Ohio within the space of a year.

Over the summer at the College of Wooster, Ohio Light Opera performed "Fiddler on the Roof," which will come to PlayhouseSquare in June in a tour version starring Chaim Topol, Tevye of the 1971 film. Between the other "Fiddlers," a production has arrived at the Beck Center in Lakewood that knows how to keep a classic fresh.

Never mind that we hardly need another incarnation of the beloved 1964 musical. As staged with fluent charm by Paul Gurgol, former artistic director of Kalliope Stage, the production finds a fine balance between the humor, poignancy and tension that makes "Fiddler" one of the summits of musical theater.

or their sojourn into "Fiddler" land, Gurgol and choreographer Lisa Lock decided to pay respects to Jerome Robbins' original staging without rendering a carbon copy. The slight detours from Robbins are few, but they mostly work. In "Matchmaker," the three oldest daughters are joined by the two youngest, who emerge from their bath to help fill out the lilting waltz. It is an entrancing variation on the theme.

Gurgol adds a pinch of sweetness to "Do You Love Me?" As Teyve and Golde realize they indeed have more than a little affection for one another, the dairyman gives his wife a tender nudge. Only in "To Life" does the momentary need to be novel prove a misstep: Russian women at the time would never have been allowed to imbibe and revel with men in a bar.

Otherwise, Gurgol hits the right emotional notes and Lock preserves the flavor of Robbins' savory dances, while adding energetic details of her own. (The choreographer, in lavish beard, also appears as the fiddler, without program credit.)

Russ Borski's flowing sets, with flowers and trees in frequent motion, and Trad A Burns' discerning lighting provide poetic views of the village of Anatekva. The atmospheres in "Sabbath Prayer" and "The Dream" are particularly effective as staged partly behind a scrim.

No "Fiddler" can hope to thrive without a Tevye who inhabits this Everyman's generous, expansive soul. Beck Center is lucky to have George Roth to convey Tevye's conflicts with tradition in a seamless blend of wit, rage and compassion. He receives vibrant assistance from Adina Bloom, a Golde abounding in good cheer and never-say-die spirit.

Rhoda Rosen's amiable Yente could use a bit more edge. But the three oldest daughters are captivating and forceful as played by Morgan Greene (Tzeitel), Patricia O'Toole (Hodel) and Dani Apple (Chava), and their suitor-husbands register strongly in the performances of Tim Allen (Motel), Kyle Downing (Perchik) and Andy Weyenberg (Fyedka).

By the time the Jewish residents of Anatevka go their various ways, the Beck Center production has reminded us that a familiar work can be potent no matter how often we enter its world. This "Fiddler" achieves impact with endearing integrity.
---
Lock needs nothing but a flow of crimson netting and her seemingly endless extension to animate her solo work. Emerging from the fabric, Lock unfolds slowly, rises on point, breaks free and returns to her nest. Throughout, she commands attention.

Donald Rosenberg Aug. 2009
---
Lisa Lock's water ballet has its Cleveland debut

by Donald Rosenberg / Plain Dealer Dance Critic
drosenberg@plaind.com

Tuesday July 21, 2009, 3:55 PM

The fountain in the lobby of Cleveland's Halle Building might not appear to be a dance venue. But Urban Ballet Vibes' Lisa Lock, one of region's most imaginative choreographers and striking dancers, transformed the space during the recent Ingenuity Festival with the world premiere of her "Agua Dulce."

Lock and Brian Murphy performed the piece in the moist environs to music by Klaus Schulze. Lock also provided the costumes in collaboration with Alexandra Underhill.
---
Premiere-packed program brims with energy
Ohio Theatre
Wednesday, April 22, 2009
Donald Rosenberg
*Plain Dealer Dance Critic*

Choreographer Lock was present in two capacities, also performing her "Silent Prayer for Drowning Fish," a heated essay in writhing and stretching on wooden boxes set to Trentemoller's "I'm Constantly Thinking About You." Lock is a lanky artist who rivets the attention.
---
coolcleveland.com
Victor Lucas

Lock performed a solo, /Silent Prayer for Drowning Fish/. Like some of her other solos, it explored the considerable possibilities of her ballet-trained body interacting with a set by Coleman. If one is expecting her to perform discernable steps, well, she doesn't. But she can be absolutely riveting doing languorous extensions of her limber lengthy limbs.
---
Review of Lisa K. Lock's Fear of Falling


March '08


Genevieve,

Saturday night I went to see "Fear of Falling", Lisa K. Lock's stunning multimedia dance performance. The newly renovated (and once condemned) Gordon Square Theater was the perfect setting with its shabby chic appearance speaking of decay and revival. Originally built for Vaudeville performances in 1912, the theater has seen both glory days and hard times, evidenced by the peeling paint on the once-ornate ceiling.

"Fear of Falling ",celebrates the triumphs and failures of the human body, human spirit, and human relationships. Lisa K. Lock, classically trained in ballet at the Grande Ecole de Danse in Switzerland, also holds an MFA from the California Institute of the Arts. Her choreography blends ballet with more experimental techniques incorporating feats of balance and suspended motion. The performance opens with "Descend," in which Lock is balanced on uneven bars. Clothed in white satin lingerie and pointe shoes, Lock's body becomes a work of art as each muscle moves with precise fluidity.

Lock shares the stage with internationally trained ballet dancers Troy McCarty and Artour Bajanov. Incorporating blocks, uneven bars, and floor space, the three dancers express a range of mature emotions set to the lush music of J.S. Bach and Heitor Villa Lobos. Always graceful, yet teetering between restraint and loss of balance, the dancers navigate the stage like lovers finding their way through the joys and sorrows of life together. The piece "Blind Faith" is performed entirely on a block, hardly large enough for Lock and McCarty to stand on comfortably. Together, they entwine into various graceful positions including moments when one or both dancers is suspended in the air over the edge of the block. These movements suggest lovers waking up in the morning and reaching out for each other in the dark. There is a sense of deep tenderness, as well as the terror that the one you reach for will not be there.

The performance as includes two solo pieces which stand out from the progressive love story portrayed by Lock, McCarty, and Bajanov. "On the Move," arranged by Lock, and choreographed and performed by the dynamic Frank Polk, is an upbeat departure incorporating hip hop and break dance. Performed on a block large enough for Polk to fully recline, the piece explores themes of balance, gravity, and emotional expression that tie in beautifully with "Fear of Falling", allowing this piece to be refreshing, rather than distracting. "Powder," which appears in the second half of the performance, is a little bit more difficult to tie in. Choreographed by Lock and performed by Micheal Medcalf, the piece uses three lamps, a bowl of white chalk, and the same block that Polk performed on. Set to the music of Tibetan Singing Bowls, Medcalf pours the chalk over his body, suggesting a religious ritual.

"Fallen," which opens the second half of the performance, was the most memorable video as well as the most disturbing. Set to pulsing free-form music, it portrays a white mannequin, which eerily resembles Lock, on the floor in pieces. The effect is cold and clashes with the emotional heat of the rest of the performance. Upon viewing, I did not enjoy this piece and could not see how it fit into "Fear of Falling", but after further contemplation, I realized this video portrays the ultimate fear of the performance: what would happened if one of the dancers did fall.

In human exploration of love and life, no matter how beautiful a body—or a relationship—is, it will eventually fall apart. Perhaps the video is meant to be a dream of death, a premonition of the inevitable demise of all things human. While the contrast is interesting, I still think the video doesn't quite mesh with the rest of the performance. I believe its themes are more adequately expressed by the live dancers. The bittersweetness of their movement celebrates beauty while simultaneously expressing the urgency of imminent decay.

Overall, the effect of "Fear of Falling" is stunning and thought-provoking. It is a celebration of life that looks death in the face. It is an exploration of fear that ultimately allows the audience to plunge into their own emotions, despite the fear. I look forward to seeing what else Lisa K. Lock has to offer.
---
Cool Cleveland
July 2007
Top flight: The incredible Lisa K. Lock transfixing the audience in the 10-minute Gravity Well Movement: Lock's ultraslow movements hanging over parallel bars with her impossibly long limbs turned her into an insectoid space alien.

From Cool Cleveland contributor Linda Eisenstein LindaATcoolcleveland.com
---
The Plain Dealer
Posted by July 20, 2007 16:37PM
Ingenuity: Cleveland's Festival of Art and Technology
July 19 -22, 2007
Earlier, across the street in a renovated office space at 1510 Euclid Ave., Cleveland choreographer Lisa K. Lock performed the premiere of her "Suspended Vision." The work is said to be part of "The Gravity Well Movement," a computer-generated installation. But what makes the piece so mesmerizing is Lock.
Suspended Vision" finds the dancer curling herself about a metal bar system in ultra-slow motion. Otherworldly music and blue projections lend mystery to the 10-minute creation. Lock, wearing pointe shoes and looking androgynous, stretches in beautiful classical lines and appears to float like a cocoon atop the metal bars. The work is both a defiance of gravity and a compact display of refined virtuosity.

Lock repeats the work at various times throughout the Ingenuity Festival today and Sunday.
Donald Rosenburg
---
The Plain Dealer
May 07
The night's dessert was a new work by Lisa Lock, a recent addition to Cleveland's dance scene. If the irresistible "Gate 39" is any sign, a resourceful choreographer is in our midst.
The piece follows a traveler (Medcalf) wrestling with conflicting thoughts (Temuru and Turner, dressed as cabaret girls).
Lock's nimble vocabulary and whimsical humor - along with the seductive music of Accordéon Mélancholique - keep the narrative in merry propulsion. Medcalf, whose upcoming journey inspired the piece, was at his Chaplinesque best, with Temuru and Turner alluringly kittenish.
Donald Rosenburg

---
Cool Cleveland
Big [Box]: Without Feathers
Wow!: In the breathtaking Without Feathers, recent L.A. transplant Lisa K. Lock immediately moved to the first rank of area choreographers and dancers. With shaved head and impossibly long limbs in Butoh-slow extensions, Lock turned herself into a series of haunting creatures. Her postmodern Apache dance with Troy McCarty was a highlight, as was her drowned-corpse work using only a chair. In between the live performances, Lock and her partner Larry Coleman created riveting films of other dances, including an intensely erotic duet between McCarty and Michael Medcalf most done with closeups of faces. Don't miss Lock next time -- she's the real deal, somebody you can't take your eyes off.
Victor Lucas
Cool Cleveland - January 2007
---
Beacon Journal
………Take Lisa K. Lock, who performed as a soloist in liquid ritual, which she choreographed. Pushing up from the floor, standing alarmingly tall, Lock resembled a long-legged white spider. She took her time in her stretchy movements to a thrusting electronic score by Amy Knoles, letting her dancing build up in impact. It was startling to realize Lock was wearing a ballet dancer's pointe shoes, since her style and the music were so contemporary. ………….But as Lock proved, one person dancing compellingly is all it really takes.
Elaine Guregian, Beacon Journal dance critic, Sept. '06
---
LA Times
...Otherwise, "Stabbing the Classics' belonged to Lock in a fabulously skillful, heroic performance: on top of every moment, able to rise above the most outrageous actions and outfits to embody an ideal of intense, coherent dance-theater that the work as a whole needed to emulate.
Lewis Segal, LA Times ' 05
---
Desert Sun
………….and the androgynous Lisa K. Lock's "Liquid Ritual" a kinetic work rich with exotic muscular, double-jointed maneuvers. Jeff Britton, Nov.'04
---
Scotsman

26th International Choreographers' Showcase Aug. 12 '04


Edinburgh, Scotland

reviewer: KELLY APTER

, UK

ROCKET @ DEMARCO ROXY ART HOUSE (Venue 115)

The penultimate solo by Lisa Lock was relatively short, but proved to be the highlight of the entire programme. Her stunning stage presence - all long limbs and cropped peroxide hair - made Liquid Ritual utterly compelling. An industrial soundtrack only intensified her contemporary moves performed en pointe
---
LATimes, '04
Lisa K. Lock demonstrated spectacular pliancy on pointe to an intense sound collage.
Lewis Segal,
---
LATimes '04
McNamee's "Why, Why, Why" found Lisa K. Lock expertly reflecting the extremes of speed and pressure of an assaultive sound score, while Lock's own "Dark Blue" solo confirmed her ability to execute spectacular contortions on pointe.
Lewis Segal,
---
Beverly Hills Outlook, '04

"Dark Blue," from Lisa K. Lock was amazing
Diane Monroe
---
Interesting!
14 Aug 2004
Edinburgh, Scotland
reviewer: Celia Simpson, UK
I enjoyed the variety of choreographers represented and particularly the innovative works -- Bolero (Holly Williams) and Liquid Ritual (Lisa Lock). Definitely worth seeing, this one!
---
Dance-Forms Productions, la Muestra Coreográfica "The 24th International American Choreographers' Showcase." ¡Inolvidables Noches de Danza!
November 2003

Por Brenda Arévalo, Ex Directora y ex Bailarina Estrella del Ballet Guatemala.

A Lisa K. Lock se le conoce por la creación de solos que nos sorprenden por ser totalmente diferentes a todo lo que se espera de la danza tradicional y contemporánea. En su solo "Winged" Lock aparece como un ser alado que con sus movimientos ascendentes y descendentes sobre las puntas y su desplazamiento en el escenario, crea verdaderas imágenes poéticas haciéndonos recordar pájaros y criaturas que únicamente percibimos en nuestros sueños. Lock bailó con intensidad llevando la danza más allá del límite de las posibilidades, sorprendiendo y emocionando al público asistente.

(Translation)

Lisa K. Lock is known to create solos that surprise us by being unique and very different from the expected. In her solo "Winged" Lock appeared like a true winged being that with her ascending and descending off-centered movements on pointe, created true poetic images reminding us of birds and creatures that we perceived solely in our dreams. Lock danced with great emotional intensity and beyond the limits of what seems possible, stunning and moving her audiences.
---
Los Angeles Times
March 2003
Three solos danced by the commanding Lisa K. Lock explored deliberately constricted space -- especially her chilling "Silent Dialogue," in which she moved within a small upright frame (something like a mirrored dressing table), switching lights on and off while she obsessively examined herself. Her familiar improvisational "Winged" solo found Lock on pointe within a web of black net, while Patrick Frantz's "The Infinite Fifth" tested her balletic and gymnastic prowess around and atop a practice barre that fenced off the stage in several directions.
Lewis Segal
---
Los Angeles Times
Feb. 2003
… there was the reliably askew Lisa K. Lock in her "Silent Dialogue," staring out starkly from an oversized metal frame, illuminating her smooth, gaunt head and her wreathing hands by controlling three lights attached to the frame
Jennifer Fisher
---
Los Angeles Times
Jan. 2003
… the most memorable dancers on Friday included Lisa K. Lock, Jeremy Tatum and Kim Borgaro in Robert Gilliam's"Chained Heat"
Lewis Segal
---
«Images Suisses» - die Fünfte Schweiz an der Expo.02

Bern, 11. August 2002
---
Die Publikumslieblinge

…………Viel gelobt wurde ebenfalls die seit 1989 in Los Angeles (USA) lebende Basler Tanzartistin Lisa K. Lock…….
---
Beverly Hills Outlook
September 2002
Decidedly asexual was Lisa K. Lock's "Pending." Unabashedly abstract, Lock embodied a Prometheus at war with larger forces, her musculature engaged with conflicts bigger than herself. In this piece of performance art, Lock commanded the sound effect score of Penderecki with authority.
Charles Lonberger
---
'Pending,' a solo work choreographed and danced by Lisa K. Lock offered an interpretation of Penderecki's composition 'De Natura Sonoris No1.' 'Sonoris' is a wonderful musical work of great sonic range, miraculously combining two opposing techniques of composition: serialism (control) and aleatoricism (freedom). Ms. Lock's ability to project impassioned vulnerability as well as gaunt-eyed pragmatism, faultlessly matched Polish master's searing music. A match made in Purgatorio!
Mischa Kopitman
October 2002
---
Los Angeles Times
February 2002
Solos proved particularly fertile, Lisa K. Lock, in her reworked "Deviation," made inspired use of platform shoes in balancing feat executed while lying prone on a chair.
Victoria Looseleaf
---
Los Angeles Times
June 2002
Lisa K. Lock's contortions on pointe in her "Winged" solo again looked splendid and her black body veil made her seem encased in mist.
Lewis Segal
---
Miss Lock is a strikingly physical performer with a flair for acrobatic and intensely emotional. Lisa K. Lock also displayed (somewhat unexpectedly) a delightfully wicked sense of the absurd in the work entitled The Infinite Fifth, an insider ballet joke. To see this gaunt faced and crop-haired avant-diva dressed in an outlandishly oversized tutu ridiculing the sacred cows of classical ballet was a sheer delight.
Mischa Kopitman
October 2001
Dancer
---
---
Quotes: